The last few months have been testing for many MAT and School ICT Directors. They've had to implement ICT initiatives at a moment's notice without knowing how long these initiatives are for or what the future brings. But: what next? How can your MAT ensure these initiatives are in line with the ICT Strategy? How can any future ICT projects be made part of an ongoing, cohesive ICT Strategy too?
We asked Novatia expert consultant, Andy Waring, what advice he's giving our clients in this situation. Andy has first-hand experience of implementing ICT projects in UK Education both as a Novatia Consultant and as an ICT director for a MAT.
So, Andy. What ICT initiatives have MATs and schools had to implement quickly?
"Rolling out ways to teach and work remotely have been the key challenge. For example, I've been working with schools and MATs who had to quickly get to grips with MS Teams and other Office 365 features.
Most schools had started a move to O365 and other cloud-based platforms over the last few years, with a plan to move resources and teaching tools to the cloud at "some point in the future". Typically, they moved the email to the cloud but then struggled to get all their data and resource onto it, so didn't progress much further.
With the immediate need to teach children remotely, the "some point in the future" came around much sooner than many planned for.
Getting to grips with these remote working and teaching features very quickly has Involved technical teams working hard to make them available and then rapid delivery of training to staff, students and parents.
The schools I've been involved with during this period have managed to do this with some success, delivering a secure set-up and getting users up and running. However, some of the implementations need revisiting to confirm that they're in line with the ICT Strategy; the danger is they 'back-plan' the ICT Strategy to fit with the current situation rather than ensure that what they have done fits with their ICT Strategy."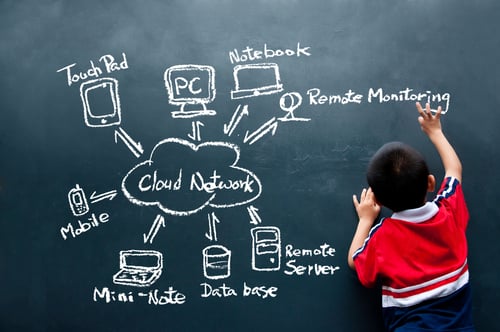 Since these projects had to be implemented within a matter of weeks or even days, what position could MATs and schools find themselves in now with regards to their ICT?
"They may find that their ICT is fragmented and, in its current form, it's perhaps not robust enough to continue long term.
All is not lost though, and we recommend carrying out a 'Current State Review', which we are doing for some clients who find themselves in this situation. This will allow them to determine what is or is not working quite so well.
We then compare the results of their Current State Review with their ICT Strategy. This means we can sift through the problems and put a plan in place to either phase out the rushed implementations or bring them back in line with the ICT Strategy. I advise that all schools and MATs who have been in this position take this approach – bringing in outside consultants if necessary.
Is there anything that would have made implementing these unexpected initiatives easier?
"Yes. Having a detailed ICT Vision and Strategy that already featured a move to a move Virtual Learning Environment would have certainly made things a little bit smoother for MATs and Schools. If a school or MAT had started a cloud-based implementation,then users would be familiar with it and some resource would already have been in place.
For schools that were unprepared for this, good communication between the MAT's Senior Leadership Team (SLT) and technical team would have been essential. This would have ensured the technical team were able to create a simple platform very quickly to share resources with pupils and their parents."
Is it too late to improve how these ICT initiatives have been implemented?
"Not at all. In fact, I believe it's essential to improve how these ICT initiatives have been implemented, so that we stop potential future issues and are ready for more uncertainty.
The momentum the enforced remote learning has created should be harnessed so that schools move forward rather than back with their ICT Strategy.
I recommend that a quick Current State Review of the 'hurried' setup should be carried out to ensure corners that may have been cut are retro fixed.
By doing this, the 'quick' solution will meet the needs of the school for many years to come. In addition, referring back to their ICT Strategy would help ensure that everything is in-line with the overall goals of the MAT and school."
What would you advise an IT Director within a MAT or school to do now?
"My advice would be to harness the momentum; it may not last long!
Ensure there is an IT Strategy around working in the Cloud; if there isn't make sure you develop one. Then get the IT Manager to review the setup and show where it needs to be aligned to the strategy.
MAT leaders may even find that the overall goals of the MAT and schools have changed. So, where appropriate, take this opportunity to review the ICT Vision and its Strategy against the overall goals."
What if the MAT or school doesn't have an ICT Strategy?
"Write one quick! It's never a good time to develop and run your ICT without the guiding map of an ICT Strategy; now is an awful time. It will lead to fragmentation of your ICT delivery, which could ultimately affect how education is delivered and supported.
Creating an ICT Strategy needs input from an ICT Strategy Group or, if such a group does not exist, a senior group of teachers from multiple subjects as well as the MAT's Senior Leadership Team.
An ICT Strategy is vital so that you can see what your strategic priorities are and understand where to focus your efforts and budget wisely.
If your MAT or school isn't in the position to develop an effective ICT Strategy right now, then consider bringing in outside experts like Novatia – we can make this happen for you.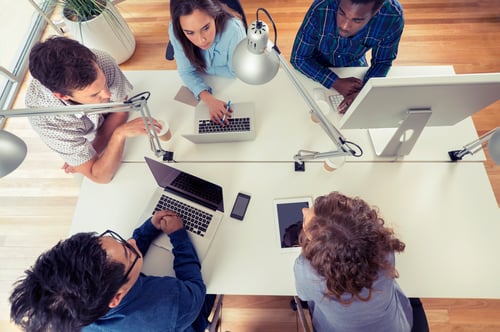 In an ideal world, what are your top tips for implementing a successful ICT project?
"The 3 Ps: Planning, planning and planning! You can certainly hope for the best, but you should definitely plan for the worst.
Start planning early, have a clear goal, know what your budget is, be clear on the requirement for success and understand your IT team skillset.
For more detail on how we recommend implementing a successful ICT Project, then download our Novatia Note: Planning an ICT Project –six steps towards successful implementation "
Watch the Webinar

Like to learn more? Andy Waring has made a FREE webinar ''ICT Projects – Implementing an ICT project during and beyond a crisis." For further details and the recording, click here.
Let us help you ...
Alternatively, if you would like further help and would like to speak directly to us, get in touch either by phone on 01962 832632 or by email on info@novatia.com. We'd be happy to provide guidance.

Visit: www.novatia.com Email: info@novatia.com Call: 01962 832632