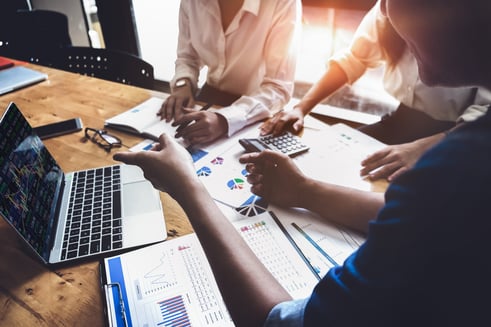 An ICT Audit is a key step to developing an effective ICT Strategy. A clear strategy means that the Trust's or school's ICT is structured, well-informed and effective. Rather than decisions being made based on short-term, tactical gains, they are made with consideration and what is beneficial in the long term.
This approach then has a positive effect on teacher workflows, the student experience, and how well MAT and School leaders can actually run their schools and meet its educational aims.
We all know that we need to be able to react to unforeseen events – the past two years have shown us that. There is also now the consideration of capitalising on their remote learning and teaching capabilities and use it more strategically through blended learning. When you have an ICT Strategy, you are reacting within parameters that allow you to still retain control and move forward, rather than make quick decisions and choices with reduced understanding about the long-term impact.

Developing this structured and well-informed ICT strategy starts with an ICT Audit. The ICT Audit will give you anaccurate picture of the status quo of your ICT and help inform the ICT Strategy that will mean that you can move forward with confidence to achieve your desired ICT position.
Read our guide 'The areas your ICT Audit & Strategy should cover'.
Why carry out an ICT Audit
There are four key benefits to carrying out an ICT Audit:
Knowing what is actually happening and the impact it's having
An ICT Audit helps you understand the reality of your current ICT situation and how effective it is, for everyone in your MAT or school.
The goal of an ICT Audit is to give you clear insight into three key areas:
Technical – system design and health of your ICT Systems.

Operational – knowledge and skills present, structure of the IT support provision and contract management assessment.

Educational – staff and student confidence and use of ICT, classroom and remote use and use of ICT aspirations.
When you know what's really happening, it means that all future ICT plans are built on what you actually have, rather than what you think you have.
You have evidence about where the real challenges are
A good ICT Audit discovers where the real problems are and presents the evidence to prove it. This makes for compelling arguments when seeking finance and support to make improvements.
All your ICT strengths and weaknesses are revealed
This can be a huge relief for MAT and School Leaders; weaknesses that were hidden are objectively identified and strengths are revealed.
We found in a recent ICT Audit that a huge spend on 'new' ICT equipment wasn't necessary immediately; this allowed the Leadership Team time to properly plan when they would make that purchase and we advised them on how to negotiate to get the best deal on it.
We often find that, for many clients, an ICT Audit reveals that the ICT Strategy should make sure that you're effectively using what you already have (and fixing what isn't really working).
Understanding how to address your school or MAT's ICT issues
When you understand the true reality of your ICT situation, with hard evidence to back up the findings, you can then determine how to move forward.
When we run ICT Audits for clients, we ensure that they result in a concise report, written in a clear, non-technical way, detailing key findings with recommended solutions and areas for development. Our clients can then develop their ICT Strategy – confident that they have the right information to do so.
Taking the Audit and developing an ICT Strategy
Now that you know where you want to get to and have an accurate picture of your ICT through the ICT Vision and ICT Audit phases, you can take these findings to develop an ICT Strategy that will give structure and a clear plan of action.
As ICT advisors to UK Education, we've worked with hundreds of schools and Trusts. We advise senior leaders to first look at the educational needs of their own organisation. This way, they can make ICT choices that are right for them. Then we help them, through a series of collaborative workshops, focus groups and interviews with key stakeholders, to develop an ICT Vision, carry out the Audit and determine the ICT Strategy.
Typically, these SIX areas are covered:
Strategy and leadership

Teaching and learning

Communication and collaboration

Resources: systems

Resources: services

Safety and security
A robust ICT Strategy is made up of two sub strategies that can often overlap:
Operational Strategy
An overarching ICT Operational Strategy is a long-term plan that details how a MAT or school intends to use Information Technologies to implement its business strategy and achieve better outcomes.
Digital Strategy
An ICT Digital Strategy details how a MAT intends to leverage technology to transform practices, processes, and procedures within the MAT digitally.
An example of how these two strategies overlap is the deployment of cloud technology is often mentioned in modern digital strategies, yet it clearly has both content and hardware-based applications.
Remember to read our guide 'The areas your ICT Audit and Strategy should cover'
Conclusion
To ensure the ICT within the Trust or school is aiding the delivery of learning outcomes, leaders should establish their overall direction and goals and the ICT Strategy needs to clearly states how ICT will be used to deliver the business and education vision and its goals.
What many MATs have also experienced through the Covid pandemic is that blended learning has significant advantages to achieving better outcomes for the MAT, schools, and students. So why go back to pre-covid days?
Therefore, having robust operational and digital ICT strategies are key to ensuring that your ICT is fit for purpose and will be robust for the long term.
If you:
are experiencing problems or issues with your MAT or School's ICT

know you need to take a more strategic approach to ICT

want to improve your current approach to ICT

want to capitalise on existing solutions

would like to try and make cost savings
then get in touch. We can help with our ICT Audit and Strategy service.
Get in touch
As ICT experts in UK Education, Novatia can provide a FREE CONSULTATION to discuss your ICT situation and its direction.
If you would like to speak to a member of our team, get in touch either by phone on 01962 832632 or by email on info@novatia.com.

Visit: www.novatia.com Email: info@novatia.com Call: 01962 832632