You are the contractor for a new school build and naturally you want it to be well planned, go smoothly and be ready for handover, on time and on budget.
As you know, the key to achieving this is having the right partners, whose area of expertise you can tap into.
As ICT experts solely in UK Education, we're privileged to have been part of over 150 school design and delivery projects. Bringing in an ICT partner from the very start of the tender process right through to when the keys are handed over to the Headteacher is paramount for accurate design, smooth delivery, and a successful ICT infrastructure project. The Headteacher wants to walk into their new build knowing the ICT works – not digging out the Helpdesk number on Day 1.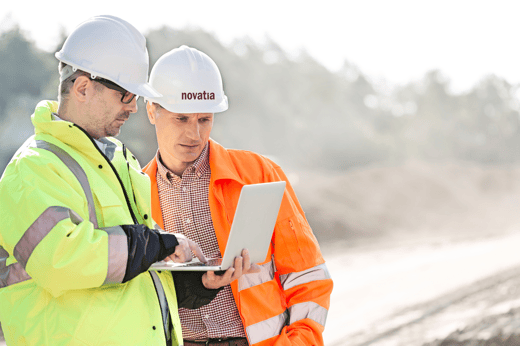 With the new DfE 2021 Construction Framework coming into play from November 2021, we thought we'd share four things you need to consider when choosing an ICT Partner:
1. Proven Experience
Check the experience of any partner you choose. Ideally, you should choose an ICT partner that has proven track experience of working on educational build projects. You want to see what projects they have delivered; how robust their processes are and how they have responded to unexpected changes on the projects.
We've worked on over 150 school build projects, with 15 different main contractors. As a result, we're experienced in working with design teams during pre-construction and implementing solutions during the build phase. At the same time, we understand that ICT infrastructure is a core part of the way the school will operate and how this can have a positive impact on pupil and learning outcomes.
Furthermore, here at Novatia, we take this proven experience further and are in the process of achieving BSI19650 and are proud that our approach to BIM is already in line with this standard.
2. Solid Relationships
There's an easy way to check if your potential ICT partner is good at building and creating solid relationships – do they have repeat business from the main contractors they are already working with?
If so, this is a strong indication that a mutual trust has been built in the relationship.
We were delighted when Galliford Try gave us this testimonial.
"The partnership worked extremely well. Novatia's information was always accurate and on time. We were especially impressed by the quick service given by their project management team." Senior Site Manager, Galliford Try
Since our first build project with them, we've been their ICT partner in over 70 projects from design to solution delivery projects.
So, check that your potential partner has a track record in building and maintaining solid relationships.
3. Education Focussed
There are many ICT firms out there, but it's advisable to join forces with one that specialises in UK Education. By doing so, you're ensuring that your ICT partner truly understands the role ICT plays in delivering top class education and that implementing this in a new build with minimal interruption to education is vital.
Here, at Novatia, we have worked on over 150 projects with 15 different contractors. We take the time to understand your current ICT, scope out future ICT needs, and determine how to combine both in your build or extension project. We then project manage the procurement and ICT implementation, ready for students to use as soon as the new building or extension is ready.
4. Understand Energy Intensity
To help with achieving the Net Zero Carbon in Operation (NZCiO) targets set by the Department of Education, we have developed a 'Power Input and Heat Output calculator', making it easier to model the small power and server room contributions to the overall baseline figures. Furthermore, as part of the PassivHaus community, we are committed to supporting you to build buildings that are NZCiO.
Conclusion
Partner with the right ICT supplier that has not only experience in UK Education but has proven collaborations with other main contractors. In addition, with more targets from the DfE on Net Zero Carbon, having an ICT supplier that understands what is required is key. By considering these four points, you will be taking a positive step to delivering the ICT project on time and on budget as well as making sure that your new school build has ICT that works for all stakeholders from Day 1 – and is future proof too.
Read our Novatia Note for more detail on how to choose the right ICT partner.
Get in touch...
Contact us if you are a Main Contractor looking for an ICT partner or a school or MAT planning an extension to your existing buildings. We can help. Get in touch either by phone on 01962 832632 or by email on info@novatia.com.

Visit: www.novatia.com Email: info@novatia.com Call: 01962 832632