The Department for Education's (DfE) new £7bn Construction Framework has paved the way for the 26 selected contractors to start work on the construction of schools, universities, and technical colleges across England.
For all these new school builds it is important to have an experienced ICT partner with you throughout the whole project - bidding, pre-construction, and construction. This ensures an ICT solution that is designed and installed to meet the client's current and future requirements and is fully integrated into the overall building design.
In the last five years, here at Novatia, we have delivered over 150 school build projects and over that time we have developed and refined our systems and processes and are fully prepared to support contractors within the new DfE framework. This blog explores this in more depth and discusses the importance of having an experienced ICT partner.
Selecting the right ICT partner
DfE school build projects require main contractors to deliver ICT infrastructure and services, such as, infrastructure both passive cabling and active network equipment, Classroom and Hall AV installations, telephony solution and to manage the decant. Under the DfE framework, the ICT elements must be delivered before handover to obtain sign off to cover the defects liability period.
Considering this, selecting the right ICT partner from the beginning is crucial. Ask yourself and any potential partners these following questions to help ensure you select the best partner for the project:
Is your potential ICT partner truly educationally focussed? Do they understand how a school's pedagogy influences the ICT design?

Have they got a demonstrable track record of working in education and construction?

Ask about the background and relevant experience of their consultants.

Do they have experience of working through the entire process, from tender to post-delivery?

Do they produce quality, DfE endorsed documentation?

What quality management systems do they have in place? e.g. ISO9001 certification?

What accreditations do they hold? Are they Constructionline Gold?

Do they have a net zero strategy and have made net zero carbon commitments?
Read our Novatia Note for more detail on how to choose the right ICT partner.
An ICT partner should support you through the whole design and build process from bidding, pre-construction, construction, and handover.
At Novatia, we have outlined how we work with contractors by following the RIBA process.
RIBA 2 & 3: Local Competition and Design Development
The ICT partner needs to work with the contractor and school not just for the ICT design stages but all the way through to installation and handover. Therefore, it is important at this early stage that the consultant builds relationships that will last.
We work with the contractor design team, the school and DfE through both the PITT and ITT phases. Through delivering over 100 projects, we support contractors with Client Engagement Meetings (CEMs) and ITT submission of concept design strategies. To aid all stakeholder participation and understanding of the project, we have found that an ICT partner should have the ability to talk technically to school network teams and then be able to translate the technical solution for understanding by school's senior leadership teams and the construction partners design teams.
The project needs to be carefully planned and designed to meet the, potentially differing, requirements of both the DfE and the school. You will need an ICT partner who has skills to manage this relationship, and an understanding of simple effective design solutions. For example, the DfE is specific in what a room's function is, which may be different to how the school wishes to use the space. It is possible to provide an ICT solution that allows for future flexibility and spaces to be adapted at little or no cost in the future.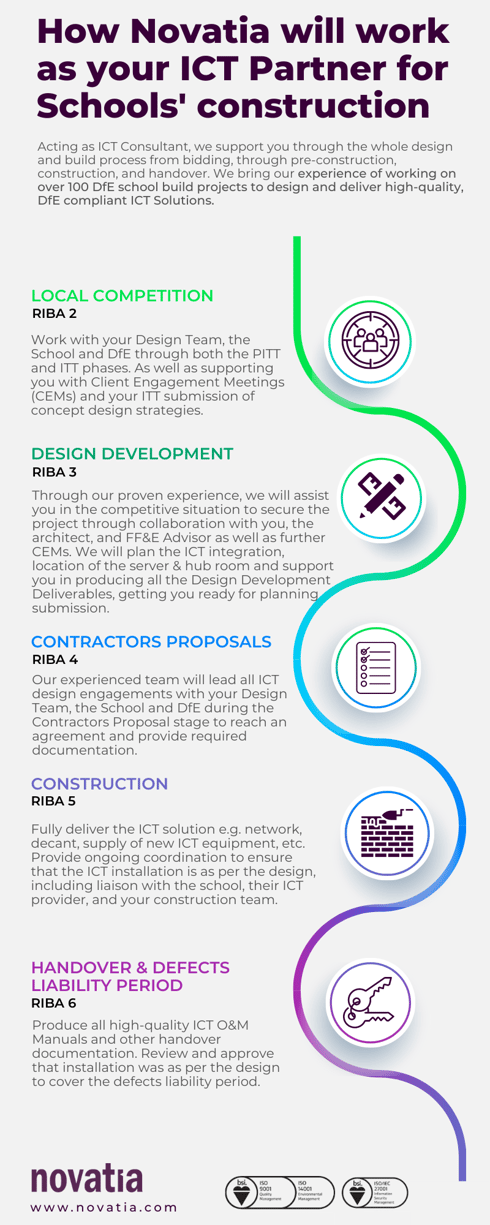 We have found that it is key for the ICT Consultant to adopt a collaborative approach to assist in the competitive situation to secure the project. We work with the Design Team, the School and DfE through site surveys, CEMs and DTMs to gather the required information to produce all documentation required for the Design Development stage submissions and bid responses.
By working with an experienced ICT Partner, such as Novatia, the desired outcome is a proposal that is fully agreed by the DfE and School, which demonstrates that the ICT elements can be delivered within budget.
RIBA 4: Contractors Proposals
At this stage the ICT design needs to be further developed with the Design team, school and DfE to produce all documentation required for the Contractor's Proposals submission.
ICT partners should demonstrate their understanding of how ICT is used throughout the school and across a broad range of settings, such as primary, secondary, FE, SEN, PRU and across all functions, including teaching and learning, finance, management, and administration. We adopt a thorough approach to this and learn from the school, through interviews etc, how they currently use their technology and how they plan to use it in the future. This results in an ICT design that is not only tailored to the school's specific needs, but thoroughly thought through at the outset.
During a design project there is a great deal of integration required between the various disciplines to make sure even the smallest details are thought through, for example:
Incorporate the large floor standing printers so they don't clog up the corridors or block staff social areas.

Specify pattressing where the hall speakers are to be located. If attached to Unistrut it is likely they will vibrate loose.

Not putting acoustic panels or the fire alarm bell on the wall on to which the screen will be projecting in the hall.

Collaborating with the M&E partner to develop small power & data schedule and drawings
We focus a large proportion of time to this stage of detailed planning as it will reduce the risk of costly snags during the construction phase.
RIBA 5: Construction
An education specialist understands the importance of minimising disruption to education and will endeavour to achieve this throughout the project. For example, during decant where school ICT is being moved our approach ensures that the admin staff are never without access to ICT.
A key element to a smooth construction process is having clarity on who is responsible for which elements of the delivery, whether it is M&E installers, FF&E specialists, or the ICT contractor. Obviously, all projects need to be delivered on budget and this requires an ICT supplier who can demonstrate control of their supply chain when initial budgets are set and can manage them through the process and furthermore adapt to changes that require rescheduling but little to no impact on budget.
During the construction phase a good ICT partner should be present and available in case any problems arise. This hands-on approach will help ensure any snags are quickly identified and avoided so that the project is not delayed. Towards the end of the construction phase the ICT partner will be responsible for organising the DfE site visit and sign off the ICT elements of the project. Here at Novatia, we ensure we provide ongoing co-ordination and liaison with the school, their ICT provider, and the construction team and by doing so, we have a good track record of first time DfE sign off.
RIBA 6 & 7: Handover and Defects Liability Period
What is your ICT partners attitude to post-handover support? This is a true test of their commitment to education and the project. They need to produce clear handover documents, and timely Operations and Maintenance manuals.
It is important for the project to be delivered on time, snag free, and within budget however the ICT partner's work does not end there. It is only once a new school is handed over that the ICT gets used and although the solution will have been implemented snag free, the school might have some new systems that they need support on for changes. Network configuration changes, or changes to the telephone solution. The ICT partner should ensure that the school staff have a successful migration to their new school and can utilise their ICT from the beginning.
Conclusion
Partner with the right ICT supplier that has not only experience in UK Education but has proven collaborations with other main contractors. In addition, with more targets from the DfE on Net Zero Carbon, having an ICT supplier that understands what is required is key. By considering these points, you will be taking a positive step to delivering the ICT elements of the project on time and on budget as well as making sure that your new school build has ICT that works for all stakeholders from Day 1 – and is future proof too.

Visit: www.novatia.com Email: info@novatia.com Call: 01962 832632