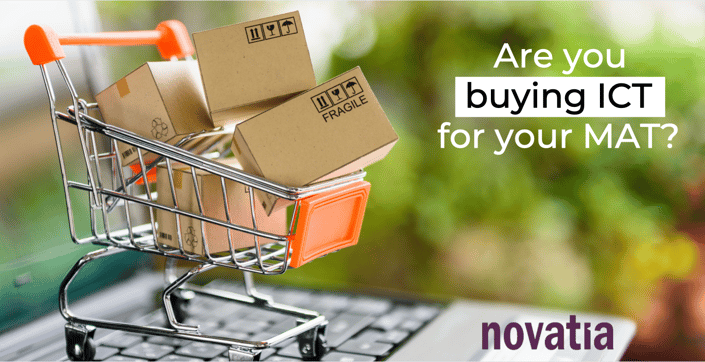 An effective ICT procurement not only delivers the technical solution, but it also provides the opportunity for a strategic review of systems across the Trust, strong stakeholder engagement, a smooth transition to a new solution, and ultimately supports the Trust to development its efficiency and improve student outcomes.
A myriad of software and services solutions
Each MAT is different and therefore will have different requirements and so there isn't a one size fits all solution. With technological advances, there is a myriad of software and managed services that can be procured which can reduce the burden of administrative tasks as well as empowering staff with time, tools and insights that can support improved educational outcomes and overall Trust development.
These software and services include:
Outsourced ICT Support / ICT Managed Services
Broadband
Telephony
E-Safety (filtering and firewall solutions)
Management Information Systems (MIS)
HR Systems
Payroll Systems
Outsourced Payroll Services / Bureaus
Finance Management Systems / General Ledgers
Purchase to Pay Systems (P2P)
Facilities

management systems
It is likely, that as a Trust, you are using at least one of these solutions already, and possibly multiple different solutions across the school estate Perhaps your contracts are coming to an end, or you are looking at how you can make savings through economies of scale for your MAT, or you want to rationalise and consolidate the number of solutions used across the Trust. Whichever the reason, you know you need to carry out a procurement exercise.
Starting off right
Many Multi-Academy Trusts (MATs) leaders say they find it challenging to select and purchase ICT and we can understand why. The process for buying ICT software and services can be complex, and the implications of getting it wrong can be significant. This makes the specification stage of a procurement exercise a critical one. You need to be able to describe functionally what you want to buy; have the market knowledge to know where to buy it from; and ensure you comply with procurement law and procedures. Many schools and Trusts don't have the skills and capacity for such a task.
As advisors to UK Education, we've assisted hundreds of school leaders over the years to be clear on what it is they need, achieve efficiencies, as well as best value for money, by helping to steer them strategically through the ICT procurement process. When we run ICT Procurement projects for our clients, we always follow these same six steps to guarantee the results they need:
Plan the process

Carry out soft market engagement

Write the specification and service level agreements

Write the invitation to tender

Manage the tender process

Select a preferred bidder and reach contract agreement.
For more details, download our procurement guide.
What a procurement consultant can do
There is a long list of tasks that a procurement consultant carries out to ensure that the procurement process goes smoothly:
Engage with stakeholders to ensure that they have a voice

Advise on a procurement strategy

Develop a specification and SLA

Write all tender documents

Establish evaluation criteria and scoring mechanisms

Advertise and administer the tender

Lead market communications

Facilitate clarifications or demonstrations

Support tender evaluation

Moderate scoring

Report results

Announce contract award

Provide feedback

Negotiate contracts

Maintain a full audit trail
They are all vital steps, and an important first step, whether running the process yourself or with a consultant, is to engage with stakeholders to ensure that the specification of what is required will do the job. There's nothing worse than, after a contract has been put in place a stakeholder says "I need it to do…. I didn't know it wouldn't do that". A good consultant will actively engage with all stakeholders from leaders, teachers, office staff, students as well as parents, where appropriate. By undertaking such an activity, you will know that you are on the right foot for implementing change as the stakeholders feel like they have a voice in specifying and choosing a solution.
Testing, testing, testing
A well-established consultant service, such as Novatia, will bring a raft of experience and market knowledge. It is easier for them to facilitate soft market testing through demonstrations or written clarifications of a particular function that you know you desire e.g. perhaps you've had issues with your order processing and need multiple level authorisation, so you need to know and often see how that would work. By undertaking these soft market testing activities, you will be confident by the end of the process that you have got the software and services solution that is right for your MAT.
Being compliant
Depending on the size of your MAT, it is likely that the anticipated value of a new contract exceeds the UK threshold i.e. triggers a formal tender process that is required to adhere to Public Contract Regulations (PCR 2015). It is incredibly important that any tenders over the current threshold follow procurement regulations – the consequences of not doing so are significant.
Do you feel confident that, within your MAT, you have the right experience and knowledge to navigate a formal procurement exercise that is not only well managed but also adheres to PCR 2015? The knowledge and guidance a consultant brings ensures a fair and transparent tender process which gives reassurance that your procurement will be compliant.
How we helped one MAT
Read our case study where we worked with Ormistong Academies Trust (OAT) to deliver a Trust-wide strategic procurement for essential IT services while taking advantage of economies of scale by leveraging their buying power through collaborative purchasing.
Get in touch
As ICT experts in UK Education, Novatia can provide a FREE CONSULTATION to discuss your procurement requirements. From here, you can decide how much you want us to be involved.
If you would like to speak to a member of our team, get in touch either by phone on 01962 832632 or by email on info@novatia.com.

Visit: www.novatia.com Email: info@novatia.com Call: 01962 832632