Government policy has placed the improvement and growth of the schooling system in England into the hands of Multi-Academy Trusts (MATs) – others have a role to play, but Trusts will need to be the focus of growth and improvement. There will need to be more of them and the ones that exist currently in 2015 will need to grow – otherwise the 1000 new converted Academies (at least) and 500 Free schools that have been promised for the next 5 years will not be realised. It has been suggested that one reason why the DfE has resisted Ofsted's desire to inspect MATs is that the DfE knows how crucial Trusts are to achieving its programme and is unwilling to make their job any harder than they perceive it already…
Some of my friends and former colleagues lead – or have led – MATs. I have every respect for them, many of them have led outstanding schools that have become the focus for a MAT, others have committed themselves wholeheartedly to education charities that want to do good. Determined not to re-invent the bureaucracy and bloat of the worst 20th Century LEAs, they are working hard at bringing rapid improvement to the UK's most challenging schools.
They face organisational challenges aplenty. They feel future funding is under threat and out of their control, just witness the negative budget impact this year of central government's decision to increase public sector employers' pension contributions. Extremely successful at developing leaders in-house that pipeline is now threatened by the % of teachers leaving the profession after a few years' service, the government withdrawing funding for extended leadership development programmes and the increased stakes that those leaders will face. I am not sure that I would be accorded the same grace and support now as I was 12 years ago when I took the challenge of leading a school up from the ignominy of a disastrous HMI visit.
Recent indications (July 2015) are that the government will try to find and enforce savings in the 'back-office' operations in schools, a proposal so far away from local management and towards DfE micro-management that no-one quite knows how it will work!
These MAT leaders know the potential contribution that technology can bring to aid them in their task, but will they be given the chance to realise this whilst contending on so many other fronts? With so many diverse organisations, their ICT S-W-O-T charts can make very different reading. Some of them have invested in ICT systems and infrastructure designed to provide the right systemic support for their schools, others have entered into partnerships with other organisations to ensure that their schools can easily access value-for-money support.
It is good news that Multi-Academy Trusts can access the Sponsor Capacity Fund from the DfE (see below) because there are significant issues to confront as a Trust grows. The New Schools Network guidance flags up clearly the consultation and business case process that needs to happen before expansion can take place.
Whilst the growth points at which their categories apply cannot be fixed in stone, there are clearly stages of growth. A recent report of DfE research identified four distinct phases in MAT growth. Whilst these points of transition cannot be fixed in stone, it is clear that they do apply. Given that Stage 1 is deemed 'cottage industry', I was once interviewed by an Academy chain in a cottage!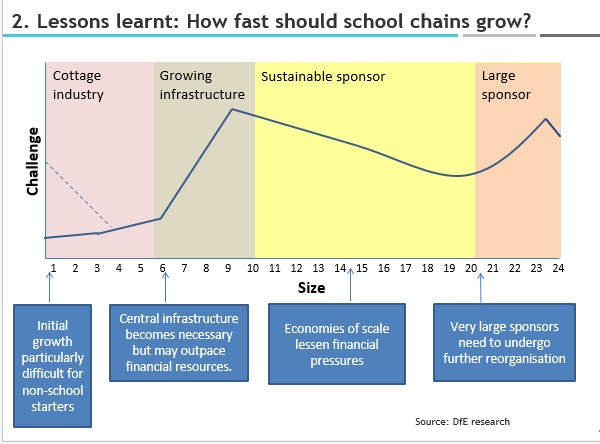 At each of the transitions different issues associated with ICT and technology will become relevant, whether it be communication, sharing resources, consistent data reporting, economies of scale, joint procurement dividends and efficiencies.
Future posts will look at the specific ICT-related issues facing Trusts at each of these transition points.
For further reading download our Guide to ICT in Multi-Academy Trusts or browse our blogs